Procare Integrated Health and Transport is currently looking for qualified Paramedics, Transport Nurses, Emergency Medical Technicians, Emergency Medical Responders and Communications Center Specialists. Please click here for job listings. We look forward to hearing from you!

Emergency Medical Technician - Baltimore and Linthicum offices
Procare is seeking Full and Part-time Emergency Medical Technician - Basic (EMT-B) and EMT-B's who are Emergency Vehicle Operators (EVO's). Please do not apply if you do not have your EMT-B certification. Medical Aide, CNA or Phlebotomy techs should NOT apply as you do not meet the certification requirements of an EMT-B.
Paramedic - Baltimore and Linthicum offices
Procare is seeking Full and Part-time EMT-I's and Paramedics in our Baltimore, as well as our Linthicum, Maryland offices. 24-hour shifts available with built-in overtime! Paramedic certification in Maryland required and DC certification is preferred.
Communications Center Specialist - Baltimore office
Procare Integrated Health and Transport is seeking mature professionals who have the talent, skills, and experience necessary to dispatch and supervise medical transport clinicians. Please apply if you have excellent customer service and leadership skills. However, this is NOT simply a customer service position, medical knowledge is also an important part of the job of a Communications
Center Specialist.
Be a part of a company found on Inc. Magazine's 500/5000 list of the fastest growing companies in the country!
Do you want to work for a company true to its values of Safety, Quality, Compliance and Teamwork? Do you want to work for a company who treats employees and patients as family - where you have all the resources you need to succeed? Where you can walk into a facility and be greeted with a smile due to our on time performance and strong client relationships? Join Procare Ambulance in continuing its mission to provide outstanding medical transportation services to our patients. Procare provides BLS, ALS and critical care ambulance transportation services as well as Medical Standby and Mobile Integrated Healthcare services. Please email to learn more about our company history, benefits package, and corporate culture.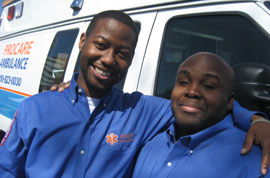 At Procare we recognize that our success is directly attributable to our staff. We take care of you so that you are able to take care of our patients. Procare offers a comprehensive benefits package which includes:
Medical, Dental and Vision Care

Short-Term and Long-Term Disability

EAP Program
Annual Employee Reviews
Annual Training
Weekly Payroll, Paychecks every Friday
Cross Training for qualified employees interested in working in our communications center

Prescription drug plan

Health and Wellness Programs including gym membership

monthly seated massage 

smoking cessation programs

Paid Time Off

Employee Incentives and Reward Program

Continuing-Education and Refreshers

Flexible Scheduling
We chose a peacock as the Work/Life Balance program symbol because we have a live peacock who visits the Anne Arundel County office and the peacock symbolizes many positive things depending on the culture or religion - Vision, Spirituality, Guidance, Protection, Patience, Kindness, Re-Growth, Renewal & Prosperity.
Procare recognizes that our most important assets are our employees. There is a national shortage for EMT's and over the last 5 years Procare has made it our corporate priority to put together the best possible recruitment and retention program. We offer flexible scheduling and temporary help employees get to work when they have no transportation.
We treat our staff as professionals, explain "why" we set certain expectations, and include our staff in on the decision-making process. We recently worked together with all staff to revise our holdover policy with Work/Life Balance considered. Procare's corporate philosophy of making decisions by asking ourselves, "will this decision ultimately create happiness to our employees and patients?", has created a healthy working environment and respectful, positive interactions. We know that our employees spend a good portion of their waking hours working for Procare and serving our patients – so we want to do everything we can to support their health and happiness, at work and at home.
Like us on Facebook and follow us on Twitter